7 Design Trends for Commercial Interiors: What really matters?
Wednesday, April 3rd, 2013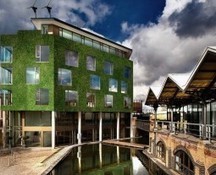 #7 – In an era of increasing interaction and constant communication, the modern worker is no longer willing to remain isolated in a tiny cubicle with no access to natural light. As a result, commercial spaces are moving toward a more collaborative approach, changing their interior design layout to create more open workspaces.
Kate Lister's insight:
In summary:
Color matters
Patterns matter
Form matters
Quirky matters
Agility matters
Eco matters
Collaboration matters